Tandem paragliding flight – Vipava Valley
Paragliding tandem flight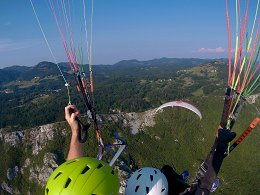 Do you want to fly as free as a bird and really feel nature... the unique and exciting experience of flying in tandem with a paraglider is waiting for you! Experience the magic of flying over a beautiful landscape with a view from the Julian Alps to the Adriatic Sea. Ideal flying conditions that we have, allow us to fly all year round. Our experienced instructors will make your experience unforgettable.
What do you bring with you?
Long sports clothes suitable for the season and hiking shoes. We take care of everything else.
What you need to know about paragliding?
Don't worry, we will explain all the information about take-off, flight and landing to you before the flight at the take-off site.
Where do we fly and how long does the experience last?
We fly from the take-offs above Vipava Valley. The take-off site is determined on the day of the flight, depending on the weather conditions. The whole experience takes about 2 hours.
Experience includes:
Tandem paragliding flight,
guidance of an experienced pilot,
transport to the take-off site,
100% fun and amazing views
https://www.youtube.com/watch?v=w3JeDN6F6zs

Information and subscription
Janko Bogataj
GSM: 00386 31 514 309
E-mail: @gmail.com
Robert Bolko
GSM: 00386 40 950 185
E-mail: robert.bolko@gmail.com
Jože Vidmar
GSM: 00386 51 270 456
E-mail: