Paragliding rules
Urgent notice for flying in the Vipava Valley 05/06/2020 Dear members, The latest tragic accident in the Vipava Valley has triggered numerous speculations and investigations by state authorities about how and where to fly. Other take-offs and landings also came under scrutiny. At the first meeting, on 26.05.2020, between the Civil Aviation Agency, SFFA, FAS, Kovk Ajdovščina and Aeroclub Josip Križaj from Ajdovščina, it was decided that for each individual take-off at the Kovk take-off, an SMS message must be sent about the intended activity to number +38631555315. This reporting directive was issued by the Civil Aviation Agency on 27.05.2020 and is valid until the cancellation or new coordination of flights in the area of ​​Ajdovščina Airport. Representatives of local associations Kovk Ajdovščina, Polet Nova Gorica, Aeroclub Josip Križaj Ajdovščina and Aeroclub ER Nova Gorica met on June 2nd, 2020, discussing the topic of harmonizing the way of flying in the area of ​​Ajdovščina sport airport and established a working group that will submit agreed joint proposals to the Civil Aviation Agency. Please respect the agreement and notify your flight prior to take-off by SMS and avoid landing or flying over the direct take-off or landing area of ​​the sport airport Ajdovscina. We look forward to honoring the agreements.
For the SFFA Management Board President: Bojan Žižmond
THE CLUB DJP KOVK AJDOVŠČINA

Start (takeoff) Kovk: asl 860 m
Landing Pizzeria Anja: asl 110 m

The club DJP KOVK Ajdovščina under protection of ZPLS (Free flying Association Slovenia) takes care for and keeps the runway KOVK and the landing. The performances, the meetings, the school for new pilots and the commercial flights can be allowed only by previous agreement with the club DJP KOVK AJDOVŠČINA. Landing on the neighbouring parcels sown with different crops is STRICTLY FORBIDDEN

The flying rules on the area of the Ajdovščina airport and the landing rules on this teritory

The paragliding in this area has some limits because of closeness to the airport Ajdovščina. We must respect the agreement with local airport.
As is evident on the picture in the red zone flying and landing is not allowed. In the yellow zone the paragliders must be attentive to sailing planes activities.
The landing place is marked near pizzeria 'Anja' in the village Budanje (with big church), about 200 m from pizzeria to the west beside the main road. The emergency landing is allowed at the village Lokavec, which is at foothills of the mountain Čaven on the northwest side of the airport Ajdovščina.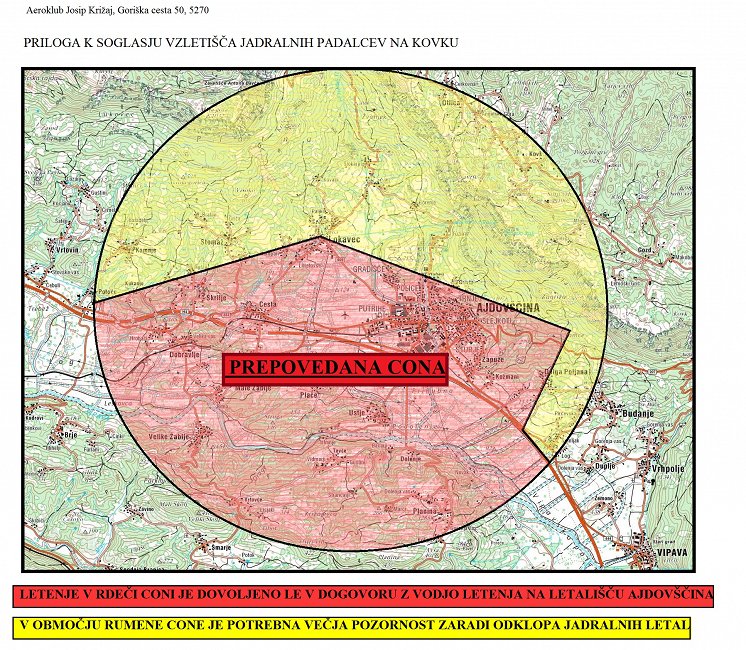 Please, respect this restrictions in the purpose of safe flying and cooperative relations with the airport Ajdovščina. Thank you.

Ajdovščina, 7.4.2011

Paragliding club Kovk Ajdovščina
Info: Samo Božič 00 386 41 502 424