Guided flights - Vipava Valley
Guided Cross-Country flying is intended for all solo pilots with a paragliding license who want to get to know flying from different take-offs in the Vipava Valley in a safe and easy way, and to fly further than they would dare to on their own. You will discover the characteristics of the terrain that the area offers for long flights under the guidance of an experienced local pilot. He will fly with you and you will be able to make a flight of your dreams. Depending on the wind direction and current weather conditions, we take-off from four different take-offs: Kovk, Čaven, Lijak and Javornik.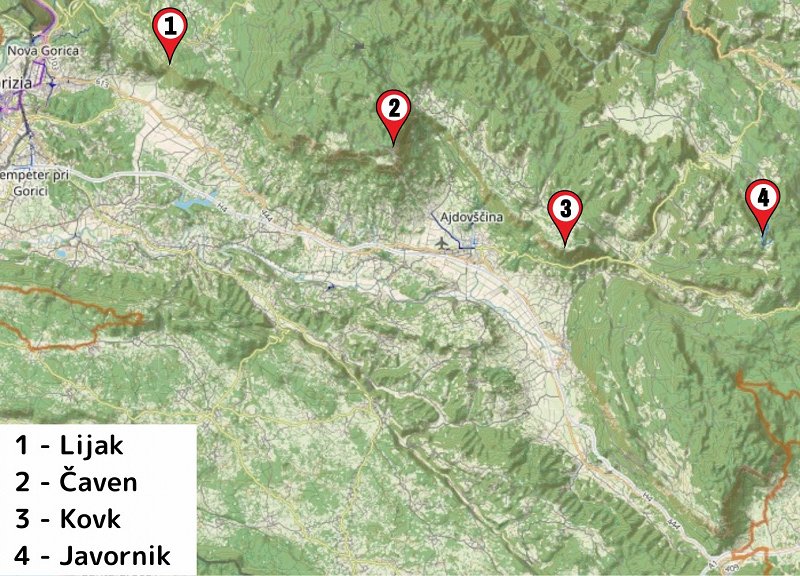 About flying in the Vipava Valley
The Vipava Valley is well known for its excellent flying conditions. The local microclimate offers long flights throughout the year, even in winter. The Southwest-oriented slope above the valley allows us to fly along the ridge that stretches from Nova Gorica to Nanos. The Vipava Valley is also known for a specific Northeast wind called Bora. Days with a calm NE wind offer excellent conditions for flying over the valley and towards the Karst. We use take-offs Kovk and Lijak for South or Southwest wind and take-offs Čaven or Javornik for East or Northeast wind.
Included services
weather forecast review and flight planning,
flying with experienced local pilot,
transport to take-off and retrieve,
starting and landing fees (only if we take-off from Lijak),
flight analysis.
Paragliding conditions
Intermediate, advanced
Suitable for
Individuals and groups of up to 8 pilots
Accommodation
It is not included in the offer, but we can help you find suitable accommodation, as there are quite a few apartments, campsites, hotel, etc. in the area.
Information and booking
Janko Bogataj
GSM: 00386 31 514 309
E-mail: janko.bogataj@gmail.com